Basic data
DAB+ Digitale radio ontvangst
FM ontvangst met
RDS zenderinformatie
Bluetooth ontvanger
voor muziek streaming
2 Aux ingangen voor
externe MP3 speler
Oplaadbaar met
NiMH batterijen (8 x D)
Rockpro
The most versatile jobsite radio, armed with the best technology available in the market.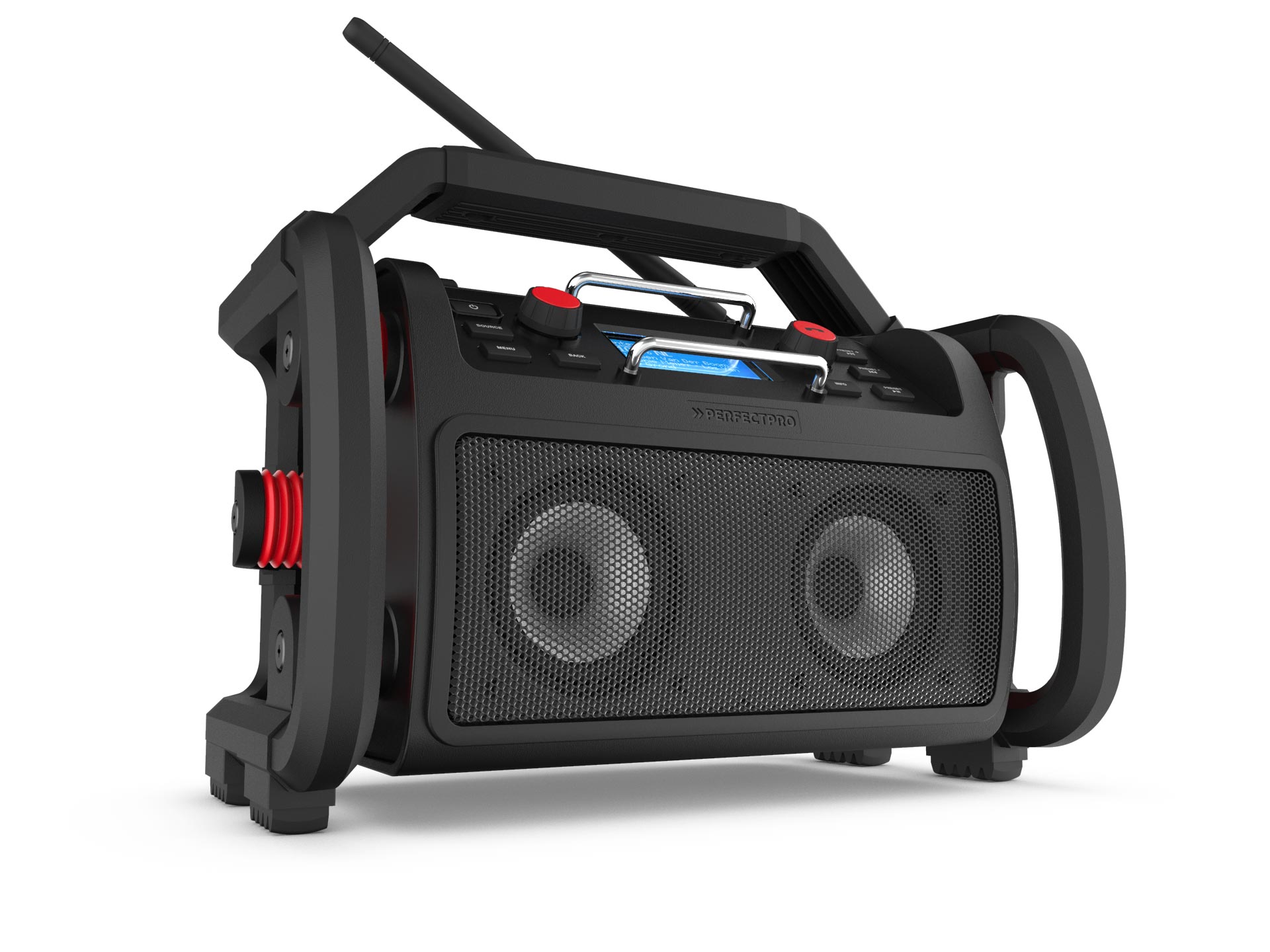 High-efficiency D-class amplifier, DSP (Digital Sound Processing) 
2×15 Watt Double Neodymium Speakers
Internet, FM, DAB+ Radio, USB/MP3 player, Bluetooth speaker, AUX-IN, Spotify Connect, Call speaker
Technical information
FM reception with RDS station information
5 station presets FM
Aux-in for external MP3 player
USB port for playing MP3 and WMA files
SD port for playing MP3 and WMA files
2 x 3 inch speaker, 2 x 5Watt
Stereo
Sound box volume 3 litre
Dynamic Loudness function
Mains current (100-240V) – 18 Watt
Batteries (6 x C)
Chargeable with NiMH batteries (6 x C)
LED charge indicator
5V USB power-out for charging a mobile phone
Durable ABS plastic body
Backlit LCD display
Metal speaker grill
Rugged controls
1.7 m rubber power cable
Cable storage at the back of the radio
Flexible, collapsible antenna (type: KA1)
Protective rubber housing and bumper
The SD card is fully protected from rain and dust by the rubber seal
Backlit buttons
Grip on the back of the radio
Storage compartment for USB sticks and SD cards at the back of the radio
Metal hoop guards for the rotary knobs
Supplied with 6 x NiMH 4000mAh batteries (type: PP-C6) included
Weight excl. batteries 2.7 kg
Weight excl. batteries 3.1 kg
WxHxD 28 x 20 x 15 cm
Colour: anthracite
Shockproof
Rain, dirt and dust resistant (IPX4 standard)
Bluematic – High-audio quality Bluetooth receiver
Big Mouth – Radio & tool bag
Metal, telescopic antenna – MA1*
Product data
Weight of radio (excl. batteries):
Weight including packaging:
Radio's dimensions (WxHxD):
Packaging's dimensions (WxHxD):
Outer box's dimensions (WxHxD):
Frequently asked questions
The Rockpro supports usb sticks and SD and SDHC cards with storage capacities that range from 16Mb to 32Gb. (SDXC cards are not supported). A USB stick or SD card must use the FAT16 or FAT32 file system in order to work with the Rockpro. MP3 or WMA files can be played, even if stored in various folders.
The length of time a rechargeable radio plays for on a full charge can never be given precisely as it depends on a number of factors, including the type of music played (e.g. music with more bass requires more power), the volume selected (the higher the volume, the more power used), the ambient temperature (a battery produces less power in low temperatures), the age of the rechargeable batteries, etc.
The Rockpro plays for up to 2 working days on a full charge (at an average volume level, at room temperature – depending on radio reception and music type).
In order to prevent the charging process from having a negative effect on the quality of radio reception and music performance it was decided to separate charging and playing in a number of models.
To read the MP3 en WMA files, the USB sticks or SD or SDHC cards must be formatted according to the following layout:
Capacity of 16Mb to 32Mb -> FAT12
Capacity of 32Mb to 2Gb -> FAT16
Capacity of 2Gb to 32Gb -> FAT32
The advantage of using an SD card over a USB stick is that the SD card fits entirely in the housing of the radio and the rubber cover completely encloses the card so it is dust and water resistant. In contrast, part of a USB stick is always sticking out and this makes it more susceptible to damage.
Accessoires
Binnenkort komen hier de relevante accessoires voor dit product.