Basic data
DAB+ Digitale radio ontvangst
FM ontvangst met
RDS zenderinformatie
2 Aux ingangen voor
externe MP3 speler
Soliddigital
The supersize version of the DABPRO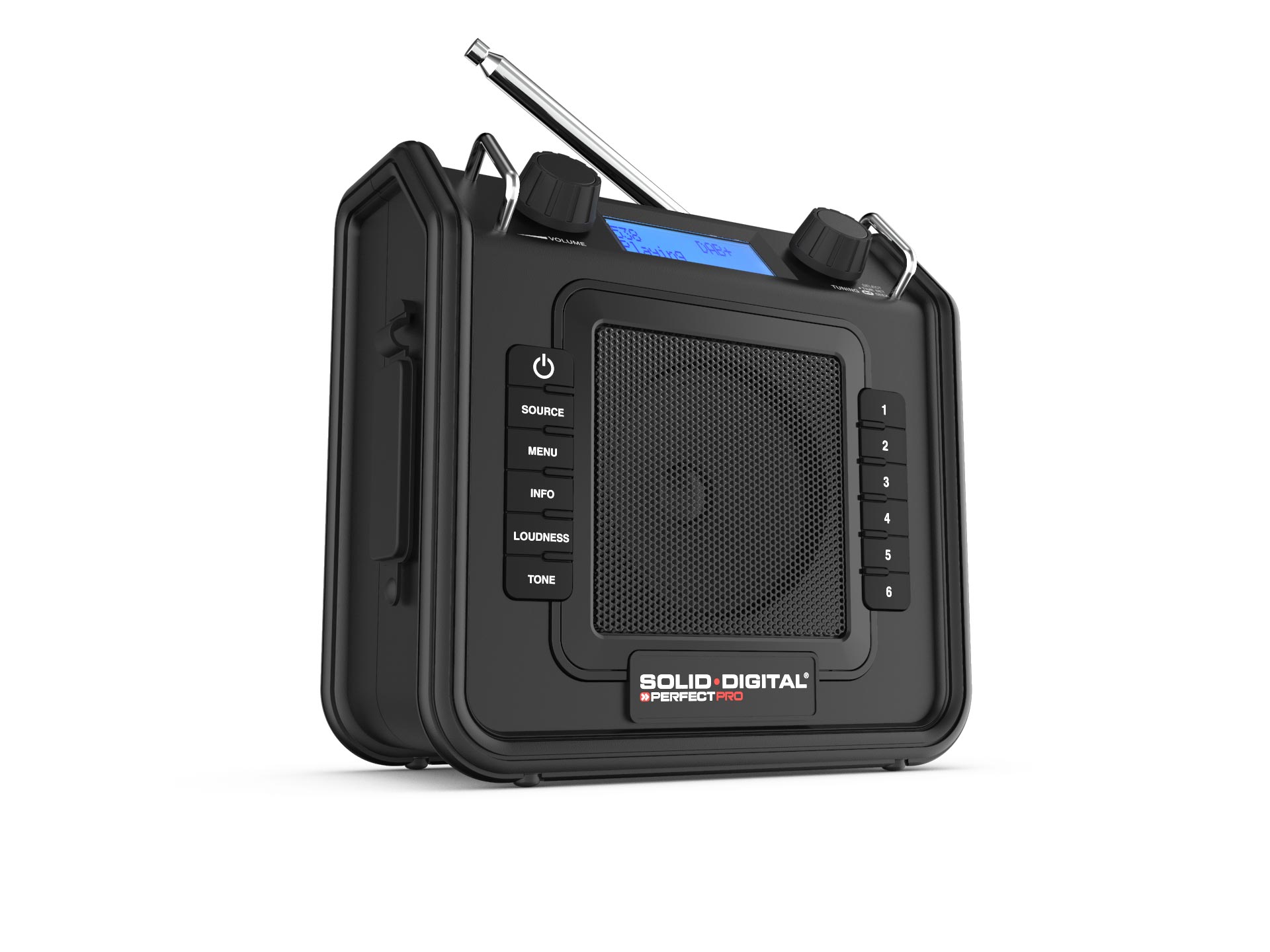 4-inch Big Magnet speaker
Technical information
DAB+ Digital Radio reception
FM reception with RDS station information
6 station presets FM and DAB+
Aux-in for external MP3 player
5 Watt, 4 inch Big Magnet speaker
Dynamic Loudness function
Separate tone control (Treble and Bass)
Sound box volume 2.5 litre
Mains current (230V) – 14 Watt
Alarm function with fade-in (radio or buzzer)
User interface available in 9 languages
(Dutch, French, German, English, Danish, Italian, Norwegian, Polish and Swedish)
Durable ABS plastic body
Backlit LCD display
Metal speaker grill
Rugged controls
Long, metal telescopic antenna (15-75 cm) (type MA2)
+ extra flexible, collapsible antenna (type KDAB4)
2.4 m neoprene-rubber power cable with IP44 plug
Cable storage at the back of the radio
Grip on the back of the radio
Metal hoop guards for the rotary knobs
Extra flexible, collapsible antenna (type KDAB4)
Weight 2,3 kg
WxHxD 23 x 22 x 14 cm
Colour: black
Shockproof
Rain, dirt and dust resistant (IP65 standard)
TÜV/GS certified
Big Mouth – Radio & tool bag
Product data
Weight of radio (excl. batteries):
Weight including packaging:
Radio's dimensions (WxHxD):
Packaging's dimensions (WxHxD):
Outer box's dimensions (WxHxD):
frequently asked questions
Experience shows that the majority of users only use jobsite radios plugged into the mains.
We therefore decided to omit the battery compartment for this group of users, thus reducing the price and providing room for a larger sound box with a fuller sound.
If machines (e.g. drills, saw benches, forklift trucks, etc.) or battery chargers are operated next to or near a jobsite radio, the electromagnetic field they generate can interfere with reception by the jobsite radio. In the case of DAB+ reception, strong electric currents in the immediate vicinity can even cause the radio signal to fade completely.
A long metal antenna provides the best reception in areas or locations where the radio signal (FM/DAB+) is weak or very weak. However, on construction and industrial sites, the radio antenna might easily be damaged. This is why most work radios have the option of using a flexible plastic antenna.
To fit the flexible antenna, consult the user guide for the radio.
With DAB+ signal reception, moving the radio a short distance, even just a few dozen centimetres, can make a huge difference to the signal level. This is typical of DAB+ radio reception.
Accessoires
Binnenkort komen hier de relevante accessoires voor dit product.