SOLOWORKER
The ultimate pocket radio
Perfect for when you want to be discreet while still being surrounded by brilliant sound wherever you go. Tucked into your shirt pocket or attached to your belt, the Soloworker will bowl you over with its magnificent sound anywhere, anytime. Recommended for anyone who doesn't want to wear headphones all day long. Try it out in small spaces (like bathrooms) and be blown away. Ideal for off-duty use, including travel, holidays and outdoor sports.
Where available
Basic data
Oplaadbaar met
NiMH batterijen (8 x D)
FM ontvangst met
RDS zenderinformatie
Bluetooth ontvanger
voor muziek streaming
2 Aux ingangen voor
externe MP3 speler
Soloworker
The smallest jobsite radio ever created: powerful speaker designed to envelop the user in a cloud of sound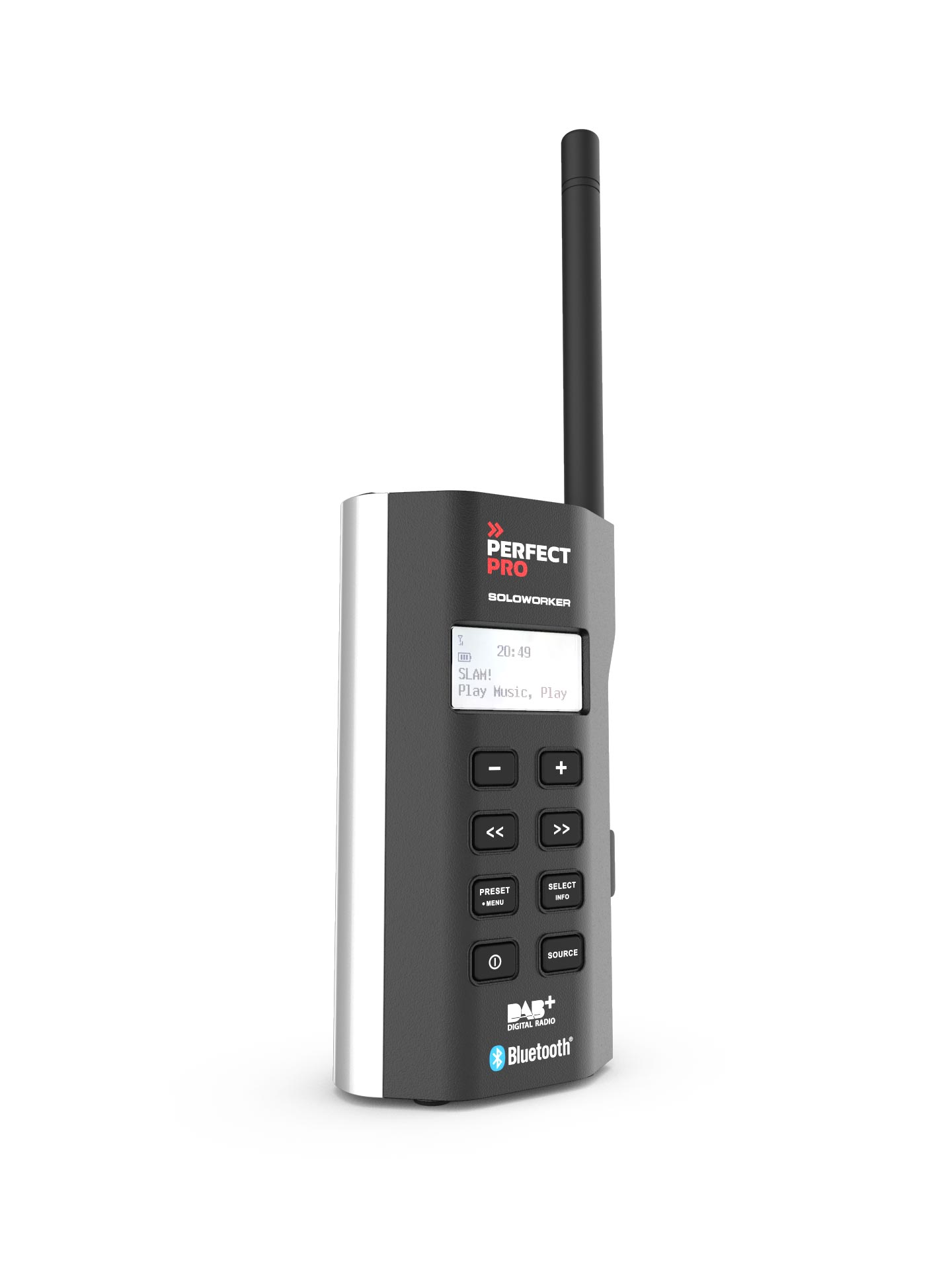 Powerful waterproof Neodymium speaker
Strong metal clip at the back to attach to belt
Technical information
FM reception with RDS station information
DAB+ Digital radio reception
20 station presets
Bluetooth receiver for music streaming
Aux-in for external MP3 player
1,4 inch, 360 degree Neodymium speaker - 1,5 Watt
Equalizer function / separate tone control (Treble and Bass)
Stereo headphone socket
Mains current (adapter 100-240V -> 5V)
Built-in Li-Ion battery 1850 mA
Micro-USB power-input (5V / 0,5A)
Average playing time on a single charge from 10 to 14 hours
Chargeable with built-in Li-Ion battery
Charge indicator in the display
Multi-language user interface
Bluetooth device list
Display of current track (title, artist, album)*
Key lock function
Durable ABS plastic body
Detailed, backlit, dot matrix display
Flexible, collapsible antenna (type: SWKA4)
Metal clip on the back
Mains and charge adapter (type: SW-ADAPTOR)
Tough Suit, rubber cover for additional protection
Weight 250 grams
WxHxD 6,7 x 12,2 x 4,1 cm
Colour: black
Shockproof
Rain, dirt and dust resistant (IP64 standard)
UL/GS certified
Product data
Weight of radio (excl. batteries):
Weight including packaging:
Radio's dimensions (WxHxD):
Packaging's dimensions (WxHxD):
Outer box's dimensions (WxHxD):
Frequently asked questions
Yes, the SOLOWORKER is even IP64 certified. As with all Perfectpro speakers, this speaker is moisture and rain resistant and does not let either in.
The length of time a rechargeable radio plays for on a full charge can never be given precisely as it depends on a number of factors, including the type of music played (e.g. music with more bass requires more power), the volume selected (the higher the volume, the more power used), the ambient temperature (a battery produces less power in low temperatures), the age of the built-in battery, etc.
The SOLOWORKER FM plays for up to approximately 8 to 10 hours on a full charge (at an average volume level of 20/40, at room temperature – depending on radio reception and music type).
Simply via your mobile phone's Bluetooth menu. Select "SOLOWORKER" in your mobile phone's Bluetooth menu. No PIN codes or similar are required
An average of 10 metres or more in open spaces. But this greatly depends on the type of mobile phone (the strength of the Bluetooth signal emitted by this telephone) and the presence of any intervening walls and doors. If you become disconnected from Bluetooth when leaving for a moment, as soon as you return within range connection will be restored automatically.
Accessoires
Binnenkort komen hier de relevante accessoires voor dit product.