Teamplayer 2
The classic blaster
The teamplayer is better known to its fanbase as simply the work radio. Strong, heavy-duty, rugged design and powerful sound, it also features all the latest high-tech features.
Where available
Basic data
DAB+ Digitale radio ontvangst
FM ontvangst met
RDS zenderinformatie
Bluetooth ontvanger
voor muziek streaming
2 Aux ingangen voor
externe MP3 speler
Oplaadbaar met
NiMH batterijen (6 x D)
Teamplayer 2
The classic robust jobsite box with a powerful sound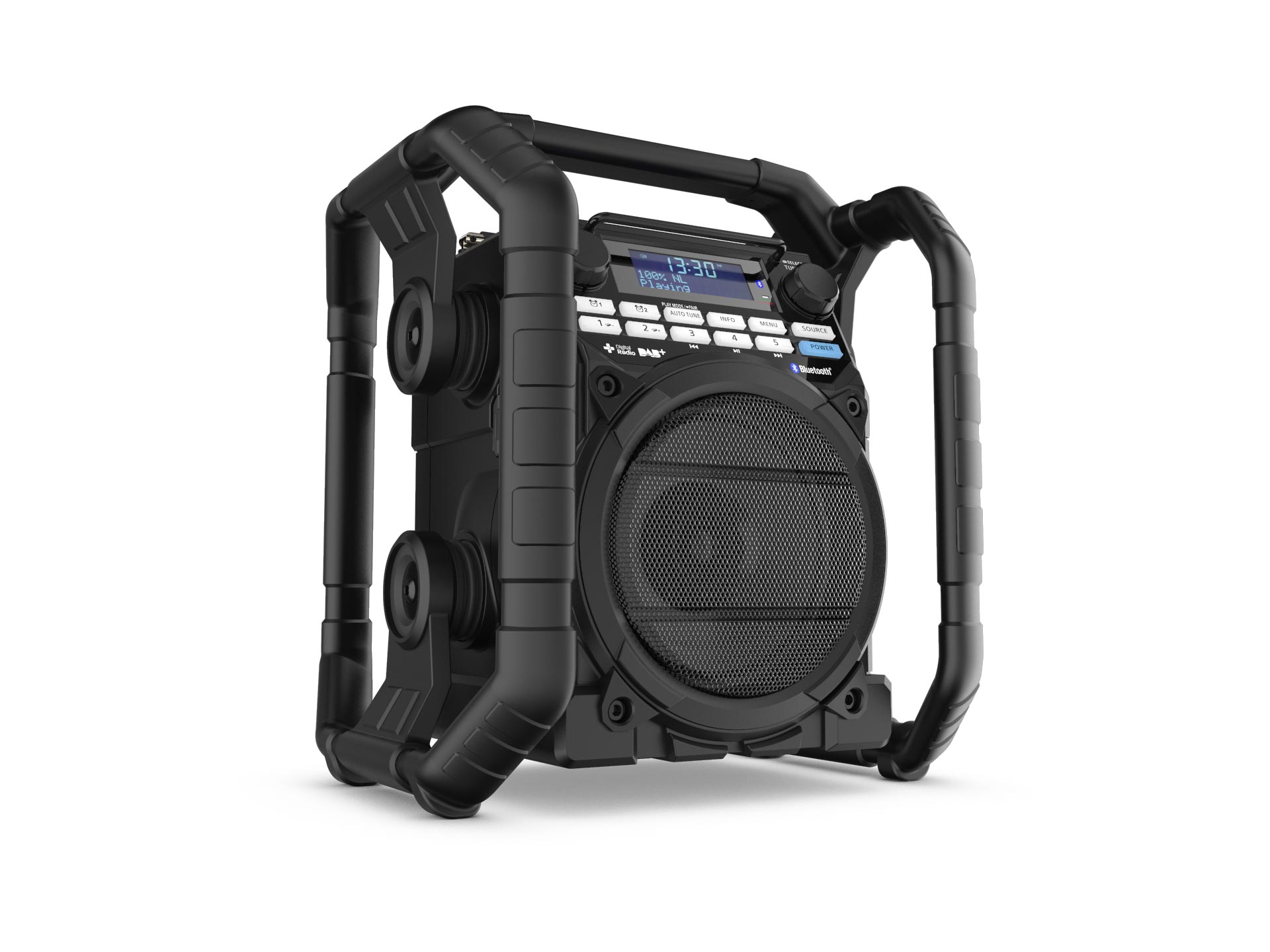 6.5-inch Big Magnet speaker
Equalizer feature/tone control (Treble & Bass)
Technical information
DAB+ Digital Radio reception
FM reception with RDS station information
5 station presets FM and DAB+
Bluetooth receiver for music streaming
Aux-in for external MP3 player
6,5 inch Big Magnet speaker, 7 Watt
Soundbox volume 6 litre
Equalizer function / tone controle (Treble and Bass)
Dynamische Loudness function
Mains current (230V)
Batteries (6 x D)
12 Volt input (for 10-14 Volt DC)
Chargeable with NiMH batteries
LED indication "charging"
Alarm function with fade-in (radio or buzzer)
Display of current track (title, artist, album)*
Timer function
5V USB power-out for charging a mobile phone
User interface available in 8 languages
(Dutch, French, German, English, Danish, Italian, spanish and Norwegian)
NFC Bluetooth pairing
Durable ABS plastic body
Backlit LCD display
Metal speaker grill
Roll-cage protected
Upwards positioning option for improved sound quality from
floor or workbench
2,2 m neoprene-rubber power cable
Cable storage at the back of the radio
LED "Bluetooth connected" indication
Flexible, collapsible antenna (type KDAB5)
Weight excl. batteries 4.4 kg
WxHxD 30 x 34 x 27 cm
Colour: black
Shockproof
Rain, dirt and dust resistant (IP65 standard)
Batteries D (6 pieces, 8000 mAh)
Product data
Weight of radio (excl. batteries):
Weight including packaging:
Radio's dimensions (WxHxD):
Packaging's dimensions (WxHxD):
Outer box's dimensions (WxHxD):
Frequently asked questions
Bluetooth is more energy efficient than Wi-Fi, for example. Bluetooth energy consumption depends on the Bluetooth version installed on the telephone.
Simply via your mobile phone's Bluetooth menu. Select "TEAMPLAYER" in your mobile phone's Bluetooth menu. No PIN codes or similar are required.
An average of 10 metres or more in open spaces. But this greatly depends on the type of mobile phone (the strength of the Bluetooth signal emitted by this telephone) and the presence of any intervening walls and doors. Via the "connected" LED on the front of the Teamplayer you can always see immediately whether your telephone is still connected or not.
If you become disconnected from Bluetooth when leaving for a moment, as soon as you return within range connection will be restored automatically.
No. Once it is connected the radio only recognizes your mobile phone. Only if you purposefully disconnect in the radio's Bluetooth menu can another mobile phone be connected to it.
With DAB+ signal reception, moving the radio a short distance, even just a few dozen centimetres, can make a huge difference to the signal level. This is typical of DAB+ radio reception.
Accessoires
Binnenkort komen hier de relevante accessoires voor dit product.