Ubox 500R
The solid trooper
Perfect for medium-sized and large spaces up to 150 m2, which it will fill effortlessly with its flawless sound. Includes integrated USB player and can also be used as a high-quality speaker (Bluetooth connectivity). The integrated battery allows you to enjoy great volume in any indoor or outdoor space. You'll love the bold and stylish design and the reinforced roll cage for additional durability.
Where available
Basic data
DAB+ Digitale radio ontvangst
FM ontvangst met
RDS zenderinformatie
Bluetooth ontvanger
voor muziek streaming
2 Aux ingangen voor
externe MP3 speler
Oplaadbaar met
NiMH batterijen (6 x AA)
Ubox 500R
Full-featured, compact and powerful, with a sturdy design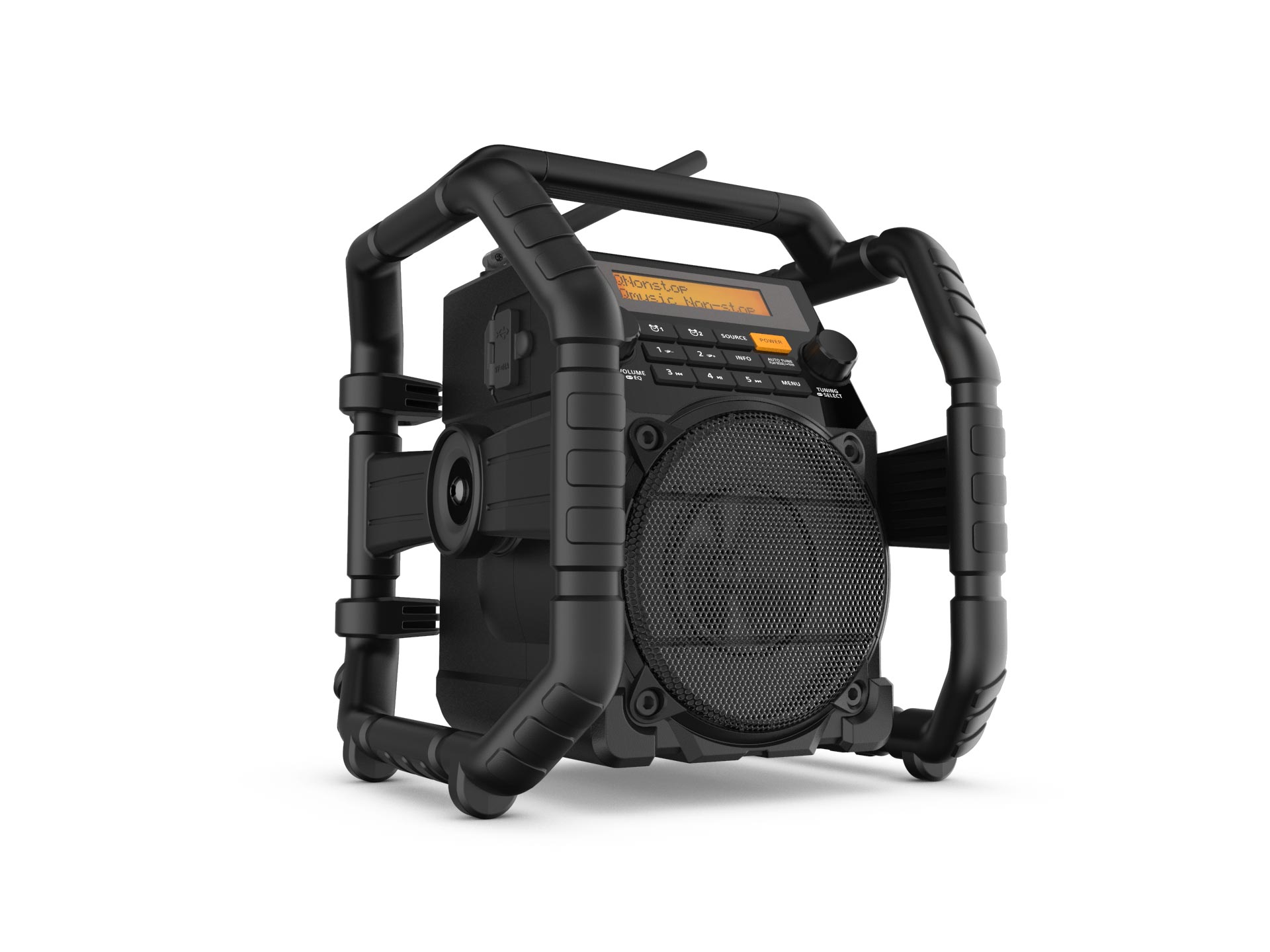 3-inch Dual 7-Watt Magnet speaker
Neoprene rubber power cable
Technical information
DAB+ Digital Radio reception
FM reception with RDS station information
5 station presets FM and DAB+
Bluetooth receiver for music streaming
USB port for playing MP3, WMA and AAC files
Aux-in for external MP3 player
3 inch Big Magnet speaker 7 Watt
Separate tone control (Treble and Bass)
Dynamic Loudness function
Mains current (230V)
Batteries (6 x AA)
Chargeable with NiMH batteries (6 x AA)
Charge indicator LED
Bluetooth connected LED
Multi-language user interface
Adjustable display backlight
Display of current track (title, artist, album)*
5V USB power-out for charging a mobile phone
Durable ABS plastic body
Backlit LCD display
Metal speaker grill
Flexible, collapsible antenna (typ KDAB11)
2,5 m neoprene-rubber cable
Cable storage on the back
Roll-cage protected
Weight excl. batteries 2,9 kg
Weight incl. batteries 3,1 kg
WxHxD 24 x 27 x 27 cm
Colour: black
Shockproof
Rain, dirt and dust resistant (IP65 standard)
Product data
Weight of radio (excl. batteries):
Weight of radio (incl. batteries):
Weight including packaging:
Radio's dimensions (WxHxD):
Packaging's dimensions (WxHxD):
Outer box's dimensions (WxHxD):
Frequently asked questions
In order to prevent the charging process from having a negative effect on the quality of radio reception and music performance it was decided to separate charging and playing in a number of models.
With DAB+ signal reception, moving the radio a short distance, even just a few dozen centimetres, can make a huge difference to the signal level. This is typical of DAB+ radio reception.
Simply via your mobile phone's Bluetooth menu. Select "UBOX 500R" in your mobile phone's Bluetooth menu. No PIN codes or similar are required
Accessoires
Binnenkort komen hier de relevante accessoires voor dit product.