Basic data
DAB+ Digitale radio ontvangst
FM ontvangst met
RDS zenderinformatie
Bluetooth ontvanger
voor muziek streaming
2 Aux ingangen voor
externe MP3 speler
Oplaadbaar met
NiMH batterijen (8 x D)
Audisse
The most versatile portable outdoor radio ever created, equipped with the finest technology available in the market.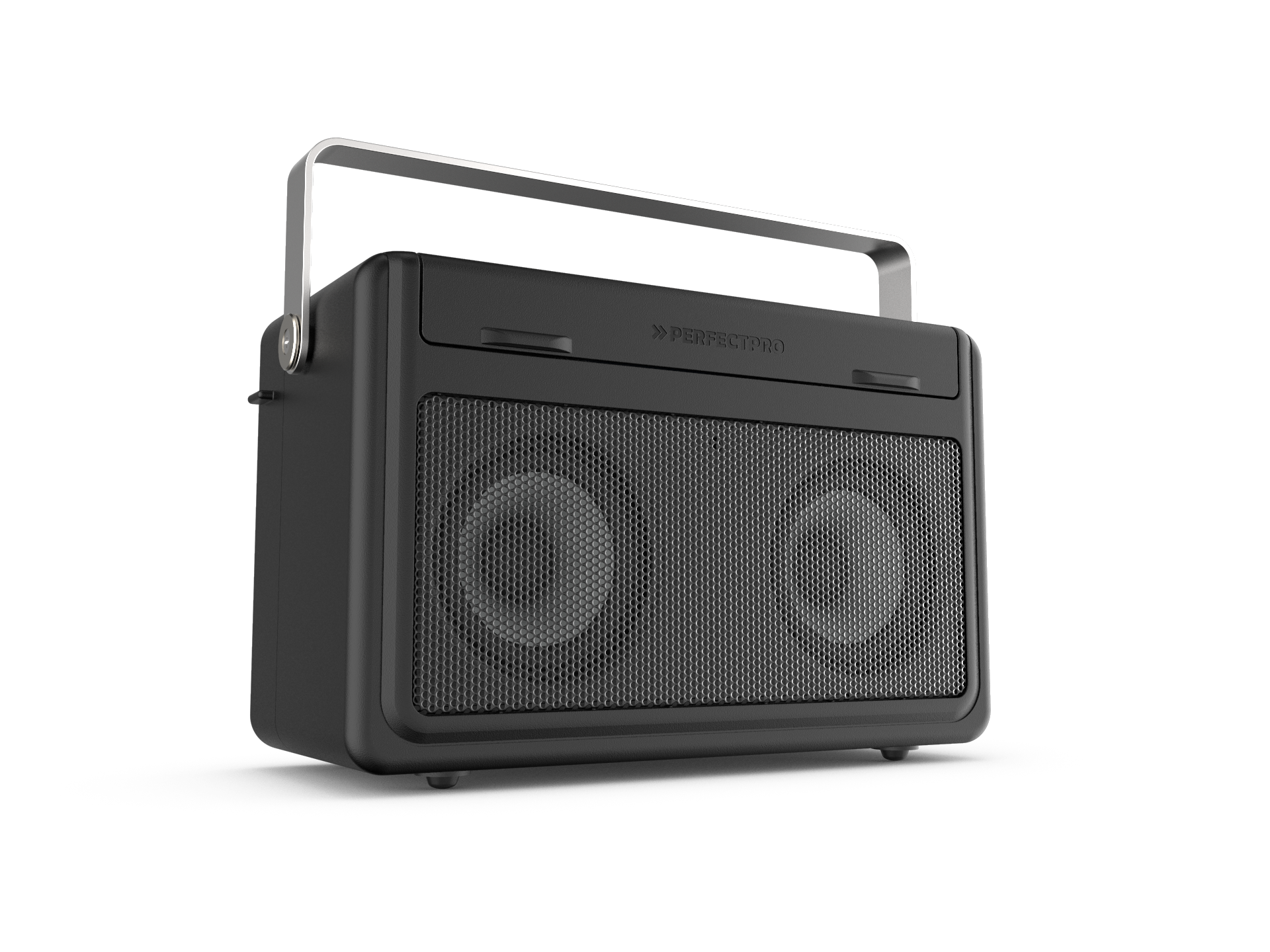 High-efficiency D-class amplifier, DSP (Digital Sound Processing) 
High-quality 2×15 Watt Double Neodymium Speakers
Internet, FM, DAB+ Radio, USB/MP3 player, Bluetooth speaker, AUX-IN, Spotify Connect, Call speaker
Technical information
WiFi Internet Radio
DAB+ Digitale Radio
FM RDS
3 x 40 voorkeuze-zenders met zap-functie
Bluetooth 4.1 met handsfree belfunctie
Spotify Connect
USB speler (ondersteunt MP3, WMA, FLAC, AAC, Apple Lossless, LPCM, Real Audio en WAV bestanden)
Network media player
Aux ingang
2 x 3 inch Double Neodymium speaker
Stereo
2 x 15 Watt output
D Class, high efficiency amplifier
DSP Digital Sound Processing
Equalizer functie
Gescheiden toonregeling (Bass – Treble)
Stereo hoofdtelefoon aansluiting
Netstroom-adaptor (100-240V -> 15V)
Ingebouwde Long-Player Lithium-Polymeer accu (11,1V – 3 x 4000 mAh)
Gemiddelde speeltijd op één laadbeurt van 12 tot 16 uur.
USB stroomuitgang 5V-1A
Bedieningsmenu in meerdere talen
Bluetooth apparatenlijst
UNDOK App bediening
Dubbele alarm functie met snooze
Sleeptimer
ABS kunststof slagvaste behuizing
Verlichte LCD display
Metalen speaker grill
Rubberen bedieningsknoppen
Neopreen-rubberen stroomkabel 2,4 meter met IP44 stekker
Kabel-opbergmogelijkheid achter op de radio
Beschermkooi rondom
Kantelstand om het geluid omhoog te
richten vanaf de vloer of werktafel
Flexibele, neerklapbare antenne (type KDAB1)
+ extra metalen telescopische antenne (type MA1)
voor extra ontvangst op plaatsen met
een zwak radiosignaal
Stroom en laadadapter (15V – 2A)
Gevoerde reistas
4-talige snelstart gids (UK, F, D, NL)
Afmeting 25,5 x 15,5 x 11,5 cm (B x H x D)
Gewicht excl. tas 2,1 kg
Kleur: antraciet
Regen-, vuil- en stofbestendig (IP65 norm)
TÜV/GS gecertificeerd
Product data
Weight of radio (excl. batteries):
Weight including packaging:
Radio's dimensions (WxHxD):
Packaging's dimensions (WxHxD):
Outer box's dimensions (WxHxD):
Accessoires
Binnenkort komen hier de relevante accessoires voor dit product.