Netbox
Our modern classic
This high-quality audio tool boasts all the latest features, including internet radio, colour screen, USB media player and Bluetooth connectivity so you can stream from any mobile device. Rain-, dust- and dirt-proof. With Wi-Fi access, connect to Spotify Connect and put on your favourite Spotify playlist. Once charged, your radio will last you 18 to 24 hours, so you can take it with you anywhere and enjoy music throughout the workday. Remote app available so you can control the Netbox through your phone.
Where available
Basic data
FM ontvangst met
RDS zenderinformatie
Bluetooth ontvanger
voor muziek streaming
2 Aux ingangen voor
externe MP3 speler
Oplaadbaar met
NiMH batterijen (8 x D)
DAB+ Digitale radio ontvangst
Netbox
The most state-of-the-art jobsite radio available in the market – in an original and classic design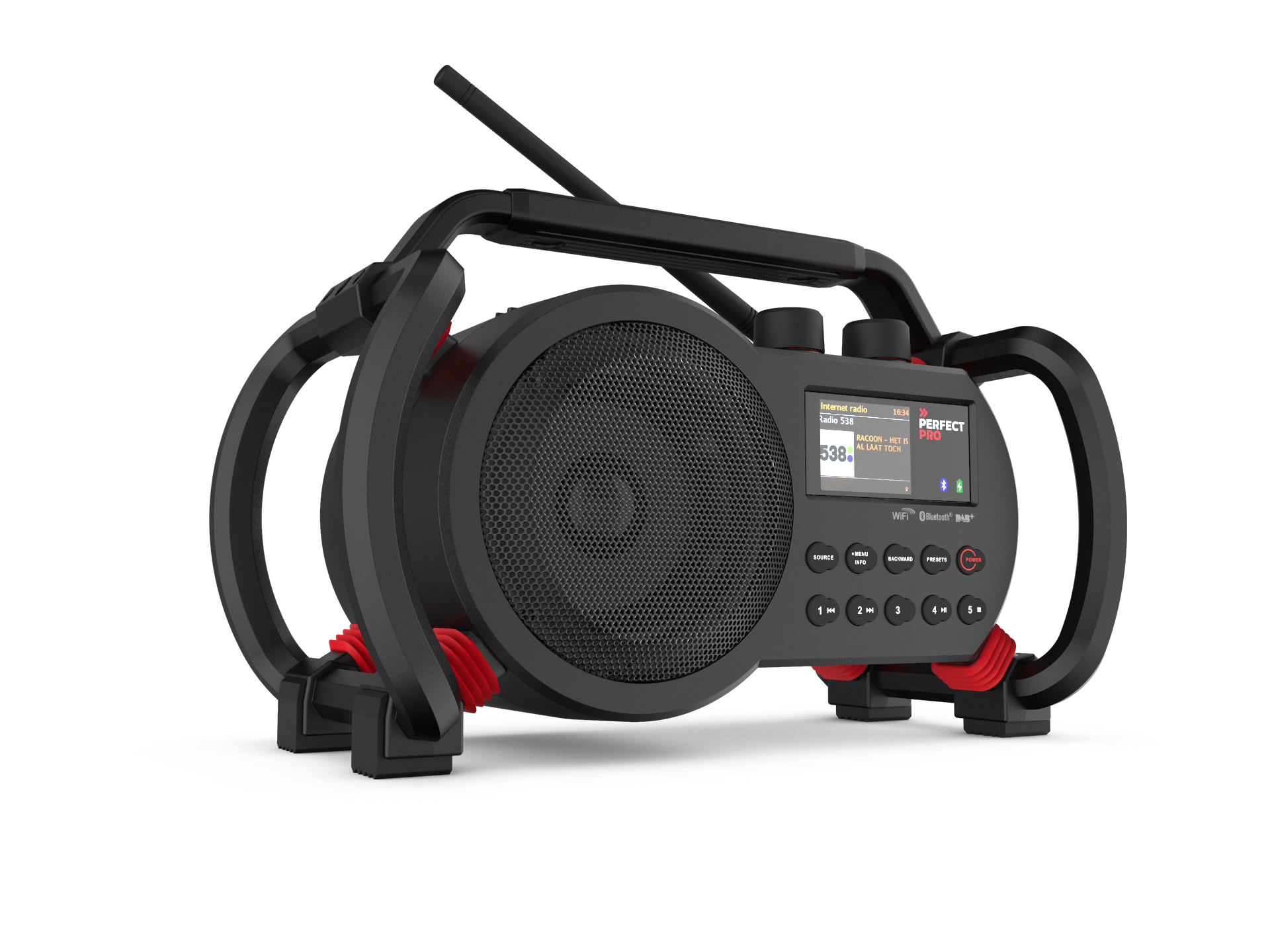 Internet, DAB+, FM, Spotify Connect, Bluetooth, AUX IN and USB player
5-inch Big Magnet Speaker, D-class amplifier (Dual Sound Processing)
Technical information
WiFi Internet Radio
DAB + Digital Radio
FM RDS
Bluetooth receiver for music streaming
Spotify Connect
Stereo Pairing
USB player (supports MP3, WMA, FLAC, AAC, Apple Lossless, LPCM, Real Audio and WAV files)
Network media player
Aux input
3 x 40 preset stations with zap function
5 inch Big Magnet Speaker
15 Watt output
D Class, high efficiency amplifier
DSP Digital Sound Processing
Equalizer function
Separate tone control (Bass – Treble)
Mains power 240V
Average playing time on a single charge from 18 to 24 hours.
Rechargeable
Also charges while playing
Charge indicator in the display
USB power output 5V-1A
Operating menu in several languages
Bluetooth device list
UNDOK App operation
Dual alarm function with snooze
Sleep timer
ABS plastic impact resistant housing
Illuminated LCD display
Metal speaker grill
Rubber control knobs
3.0 meter neoprene-rubber power cable
Cable storage option on the back of the radio
Protective cage all around
Quick start guide in 4 languages (UK, F, D, NL)
Dimensions 35,5 x 22,5 x 21,5 cm (W x H x D)
Weight: 3,5kg
Color: black
Rain, dirt and dust resistant (IP64 standard)
Product data
Weight of radio (excl. batteries):
Weight including packaging:
Radio's dimensions (WxHxD):
Packaging's dimensions (WxHxD):
Outer box's dimensions (WxHxD):
Accessoires
Binnenkort komen hier de relevante accessoires voor dit product.